My Blog
Posts for: August, 2019
By Kirkland Smiles Dental Care
August 17, 2019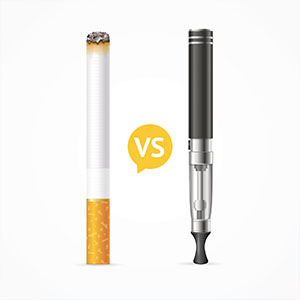 If you think "vaping" electronic cigarettes (e-cigarettes for short) is healthier for your teeth and gums than smoking cigarettes, you might be disappointed with the latest research. A number of studies seem to indicate e-cigarettes could be just as damaging to your mouth as traditional cigarettes.
An e-cigarette is a device containing a chamber for liquids and a means to heat the liquid into a vapor. The user then inhales or "vapes" the vapor, which contains nicotine and flavorings. The heat also pressurizes the vapor causing it to expel as an aerosol into the mouth.
Researchers have found the ingredients and aerosol effect could lead to potential health problems. An Ohio State University researcher found that vaping disrupted the normal balance of microorganisms in the mouth known as the oral microbiome. This imbalance could make it easier for disease-causing bacteria to proliferate, particularly those most responsible for periodontal (gum) disease.
Another study coming out of the University of Rochester and Stony Brook University in New York detected cell damage in gum tissue caused by e-cigarette vapor similar to that caused by regular cigarette smoke. Some of this damage seemed to result from the flavoring agents used in the e-cigarette liquid, as well as nicotine.
Another study from Quebec, Canada appears to concur with the New York study. These researchers found the damage caused by e-cigarette vapor might substantially increase the rate of cell death in oral tissues by as much as 50% over a short period of time. This kind of damage can lead to higher risks of dental diseases like gum disease or tooth decay.
While we don't know the long-term effect of using e-cigarettes on both oral and general health, these studies are alarming: They seem to show vaping may cause some of the same problems as smoking. With the jury still out, the prudent thing to do is limit or avoid vaping altogether to protect your mouth from these unhealthy outcomes.
If you would like more information on the possible oral health effects of e-cigarettes, please contact us or schedule an appointment for a consultation.
By Kirkland Smiles Dental Care
August 07, 2019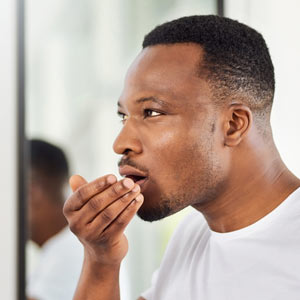 Be sure to mark August 6 on your calendars—and not just because it's the day in 1661 when the Dutch sold Brazil to Portugal, or when President Johnson signed the Voting Rights Act in 1965, or when the Ramones performed for the last time in 1996. August 6 also happens to be National Fresh Breath Day! But since fresh breath is important to us every day, we like to celebrate all month long.
Celebrating fresh breath might not seem as noteworthy as these other historical moments, but if you're a frequent halitosis (bad breath) sufferer, you know it can be downright embarrassing. More importantly, it could be a sign of a deeper health problem. It turns out there are a number of reasons why you might have bad breath. Here are the most common.
You're not adequately cleaning your mouth. Certain strains of bacteria are known for emitting volatile sulfur compounds, which give rise to that "rotten egg" smell and are a major component of bad breath. Because they feed on leftover sugars and proteins from food, you can keep them and their noxious odors at bay by brushing and flossing your teeth and brushing the broad surface of the tongue, a prime breeding ground for these bacteria.
You're not producing enough saliva. This unsung bodily fluid is a key part of good oral health. Besides helping to rinse the mouth of food particles after eating, saliva also fights odor-causing bacteria. If your mouth is dry because you're not producing enough saliva, bacteria can grow and create a number of oral health problems, including bad breath. You may be able to relieve chronic dry mouth and accompanying bad breath by using saliva-boosting agents or drinking more water. You should also talk to your doctor about any medications you're taking that might interfere with saliva production.
It could be caused by disease. Tooth decay or periodontal (gum) disease naturally give rise to bad breath—but so can other diseases like diabetes, cancer or respiratory infections. As you're dealing with these other conditions, you may also need to contend with bad breath as a side effect. You can help reduce any disease-based odors by keeping up your daily oral hygiene, especially if you're undergoing treatment for a systemic condition. Obtaining treatment, particularly if you have tooth decay or gum disease, will help reduce these embarrassing foul odors.
National Fresh Breath Day may not share the same pedestal with other momentous August dates, but if it reminds you to keep your mouth clean and see your dentist regularly, fresh breath certainly deserves its own day.
If you would like more information about the causes and remedies for bad breath, please contact us or schedule an appointment for a consultation. To learn more, read the Dear Doctor magazine articles "Bad Breath: More Than Just Embarrassing" and "Dry Mouth."