My Blog
Posts for tag: smoking
By Kirkland Smiles Dental Care
August 17, 2019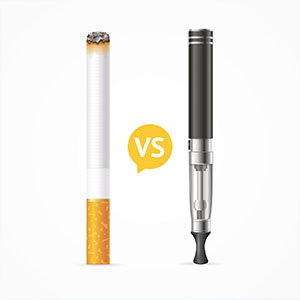 If you think "vaping" electronic cigarettes (e-cigarettes for short) is healthier for your teeth and gums than smoking cigarettes, you might be disappointed with the latest research. A number of studies seem to indicate e-cigarettes could be just as damaging to your mouth as traditional cigarettes.
An e-cigarette is a device containing a chamber for liquids and a means to heat the liquid into a vapor. The user then inhales or "vapes" the vapor, which contains nicotine and flavorings. The heat also pressurizes the vapor causing it to expel as an aerosol into the mouth.
Researchers have found the ingredients and aerosol effect could lead to potential health problems. An Ohio State University researcher found that vaping disrupted the normal balance of microorganisms in the mouth known as the oral microbiome. This imbalance could make it easier for disease-causing bacteria to proliferate, particularly those most responsible for periodontal (gum) disease.
Another study coming out of the University of Rochester and Stony Brook University in New York detected cell damage in gum tissue caused by e-cigarette vapor similar to that caused by regular cigarette smoke. Some of this damage seemed to result from the flavoring agents used in the e-cigarette liquid, as well as nicotine.
Another study from Quebec, Canada appears to concur with the New York study. These researchers found the damage caused by e-cigarette vapor might substantially increase the rate of cell death in oral tissues by as much as 50% over a short period of time. This kind of damage can lead to higher risks of dental diseases like gum disease or tooth decay.
While we don't know the long-term effect of using e-cigarettes on both oral and general health, these studies are alarming: They seem to show vaping may cause some of the same problems as smoking. With the jury still out, the prudent thing to do is limit or avoid vaping altogether to protect your mouth from these unhealthy outcomes.
If you would like more information on the possible oral health effects of e-cigarettes, please contact us or schedule an appointment for a consultation.
By Kirkland Smiles Dental Care
July 20, 2016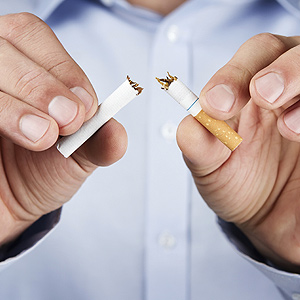 It's been widely established for decades that cigarette smoking contributes to cancer and heart disease. But did you know smoking will also increase your risk of tooth decay and periodontal (gum) disease, as well as nuisance problems like tooth staining, bad breath and diminished taste perception?
Its effects on your teeth and mouth are all the more reason to quit smoking. But deciding and following through are two different things: many smokers find it painfully difficult to quit due to their addiction to nicotine, tobacco's active ingredient.
But while difficult, it can be done. Here are 4 tips to help you follow through on your decision to quit smoking.
Change Your Response to Stress. Cigarette smoking is closely tied to the pleasure and reward areas of your brain. With its "hit" of nicotine, you sub-consciously identify smoking as a way to relieve the unpleasant feelings of stress. Instead, substitute other stress relievers when it occurs: going for a walk, talking to a friend or taking a few deep breaths. In time, this substitution will wear down the trigger response to stress you've developed with smoking.
Gradually Reduce Nicotine. You don't have to quit abruptly or "cold turkey": over the course of a few weeks, try switching to brands with decreasing levels of nicotine. Each week change to a brand with 0.2-0.4 milligrams less nicotine yield than the brand you were smoking the previous week. When you reach the lowest nicotine yield you can find, begin reducing the number of cigarettes you smoke each day. You can find a list of nicotine yields by brand at www.erowid.org/plants/tobacco/tobacco_nic.shtml.
Quitting Loves Company. While you're responsible for quitting, you may also benefit from the support of others. Usually eight to ten weeks of peer group sessions, a cessation support group provides instruction and ample structure with others engaged in the same struggle. You can usually locate one of these support groups by asking your healthcare provider.
Talk to Your Doctor or Dentist. Next to you or your family, no one wants you to quit more than we do! We can provide you information, treatment and encouragement as you take this big step toward improving your life and health.
If you would like more information on how to quit smoking, please contact us or schedule an appointment for a consultation. You can also learn more about this topic and more tips for quitting by reading the Dear Doctor magazine article "10 Tips to Help You Stop Smoking."