My Blog
Posts for tag: dental crowns
By Kirkland Smiles Dental Care
January 27, 2020
Dental crowns from your dentist in Kirkland, Washington can help your smile.
If you need a stronger smile, consider dental crowns to help you achieve it. In fact, dental crowns provide overall protection, to keep your teeth from breaking. You can enjoy the foods you love without worrying about damaging your smile. Dr. Bernard S. Pak at Kirkland Smiles Dental Center in Kirkland, Washington offers dental crowns to help your smile.
Damaging your smile is easier than you think. Eating hard foods can take a toll on your teeth. Grinding and clenching can cause chipping and fractures. Even normal aging plays a part in diminishing the strength of your smile.
The good news is, dental crowns provide unsurpassed protection because they cover the entire visible surfaces of your teeth above the gumline. When you bite down on a dental crown, the biting stress is spread out over the entire surface of your tooth, protecting it from breaking.
Today's dental crown materials provide the strength you need, and they also provide the beauty you want. You can choose from:
Full porcelain crowns, which are the most cosmetically beautiful choice; porcelain reflects light, like natural tooth enamel, so these crowns are virtually indistinguishable from natural teeth. Porcelain also resists stains, so a full porcelain crown will stay beautiful for years. Full porcelain crowns are the optimum choice for front teeth and teeth that are visible when you smile.
Porcelain-fused-to-metal crowns, also known as PFM crowns, which provide cosmetic beauty and increased strength because of the metal underlay; these are an excellent choice for any area of your smile because they provide increased strength for chewing and biting.
If you need a stronger, more beautiful smile, don't wait! Find out more about how dental crowns can help your smile by calling Dr. Bernard S. Pak at Kirkland Smiles Dental Center in Kirkland, Washington today.
By Kirkland Smiles Dental Care
September 07, 2018
A dental crown is a restoration that restores a significant portion of lost tooth surface and fortifies a fractured or damaged tooth. Also known as a cap because it literally covers the tooth, crowns are one of the most durable and reliable dental restorations. A crown can also replace a missing tooth through a dental bridge. Dr. Bernard Pak, a dentist in Kirkland, WA, offers a number of cosmetic and general dentistry services for children and adults at Kirkland Smiles Dental Care.
Dental Crowns in Kirkland, WA
Crowns are a great option to restore function and make cosmetic improvements to a damaged tooth. In cases of severe tooth decay where the cavity is too big to be treated with a dental filling, a crown is often the only option available to save the tooth from extraction and more expensive restorations like dental implants. Broken or severely cracked teeth are also good candidates for dental crowns. Crowns can also be used to cover a discolored or stained tooth. Crowns are also used to cover a dental implant.
Crowns can be fabricated from a few different types of material depending on your budget and needs, such as ceramic, porcelain, or a combination of materials like glass and plastic (composite resin). Your dentist will recommend the type of crown that is best for you at your initial appointment. Most crowns require two dental appointments, where an impression is taken of the tooth and sent to an outside lab where the crown will be completed. You can usually get a temporary crown to wear until the permanent one is completed.
Caring for Dental Crowns
Like natural teeth, crowns require good oral hygiene and regular preventive care including a check up and professional cleaning every six months. With proper care, a typical crown can last for many years.
Find a Dentist in Kirkland, WA
For more information about crowns and other dental restorations, contact Kirkland Smiles Dental Care by calling (425) 893-9500 to schedule an appointment with Dr. Pak today.
By Kirkland Smiles Dental Care
October 27, 2014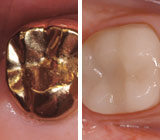 A "crown" or a "cap" is the term used to restore a decayed or broken tooth that needs to be completely encased to protect the tooth beneath it. A crown's dual purpose is to restore the tooth's form and function. Decades ago gold was the material of choice for a crown. What we ultimately choose depends on a particular crown's requirements with regard to the tooth's appearance and function, and to some extent what you want.
Gold: Gold crowns last the longest and wear the best (at about the same rate as natural teeth), but they are not used as frequently today, especially if they are visible in a person's smile. Gold crowns are made of cast gold, a technique that has been in use for over a hundred years. They can last for decades, and have been known to last 50 years or more. They tend to cost less per tooth than porcelain or other materials.
All-Porcelain: "All porcelain" crowns have a natural appearance and as technology improves they are gaining popularity. Dental porcelains are composed of ceramic substances that are variations of glass. This gives them their translucent, lifelike appearance — but it makes them brittle and subject to fracture. Therefore all-porcelain crowns may not be a good choice for back teeth because they frequently fail under the biting forces applied during chewing and especially adverse habits like tooth clenching or grinding. Porcelain crowns are made of material that doesn't wear. Consequently, it can cause excessive wear to the teeth they bite against.
Porcelain-Fused-to-Metal (PFM): PFM crowns have been in use for more than 40 years. They combine a substructure of gold or platinum for strength and have porcelain "facings" for the visible surfaces. In some ways they combine the best of both worlds, but they do have some problems; the metal can show through the porcelain, detracting from its life-like appearance. These crowns can have a functional lifespan of about 20 years or more.
New and Future Materials: Newer "pressed-ceramic" restorations and computer-milled ceramics have received good reviews for aesthetics and service. These new materials are being intensively researched. Initial results look good, but we'll have to see how they last over time.
Contact us today to schedule an appointment or to discuss your questions about crowns and other dental restorations. You can also learn more by reading the Dear Doctor magazine article "Gold or Porcelain Crowns?"