My Blog
Posts for: February, 2017
By Kirkland Smiles Dental Care
February 16, 2017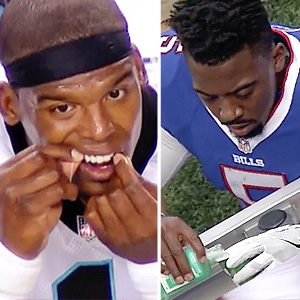 Everyone knows that in the game of football, quarterbacks are looked up to as team leaders. That's why we're so pleased to see some NFL QB's setting great examples of… wait for it… excellent oral hygiene.
First, at the 2016 season opener against the Broncos, Cam Newton of the Carolina Panthers was spotted on the bench; in his hands was a strand of dental floss. In between plays, the 2105 MVP was observed giving his hard-to-reach tooth surfaces a good cleaning with the floss.
Later, Buffalo Bills QB Tyrod Taylor was seen on the sideline of a game against the 49ers — with a bottle of mouthwash. Taylor took a swig, swished it around his mouth for a minute, and spit it out. Was he trying to make his breath fresher in the huddle when he called out plays?
Maybe… but in fact, a good mouthrinse can be much more than a short-lived breath freshener.
Cosmetic rinses can leave your breath with a minty taste or pleasant smell — but the sensation is only temporary. And while there's nothing wrong with having good-smelling breath, using a cosmetic mouthwash doesn't improve your oral hygiene — in fact, it can actually mask odors that may indicate a problem, such as tooth decay or gum disease.
Using a therapeutic mouthrinse, however, can actually enhance your oral health. Many commonly available therapeutic rinses contain anti-cariogenic (cavity-fighting) ingredients, such as fluoride; these can help prevent tooth decay and cavity formation by strengthening tooth enamel. Others contain antibacterial ingredients; these can help control the harmful oral bacteria found in plaque — the sticky film that can build up on your teeth in between cleanings. Some antibacterial mouthrinses are available over-the-counter, while others are prescription-only. When used along with brushing and flossing, they can reduce gum disease (gingivitis) and promote good oral health.
So why did Taylor rinse? His coach Rex Ryan later explained that he was cleaning out his mouth after a hard hit, which may have caused some bleeding. Ryan also noted, "He [Taylor] does have the best smelling breath in the league for any quarterback." The coach didn't explain how he knows that — but never mind. The takeaway is that a cosmetic rinse may be OK for a quick fix — but when it comes to good oral hygiene, using a therapeutic mouthrinse as a part of your daily routine (along with flossing and brushing) can really step up your game.
If you would like more information about mouthrinses and oral hygiene, contact us or schedule a consultation.
By Kirkland Smiles Dental Care
February 01, 2017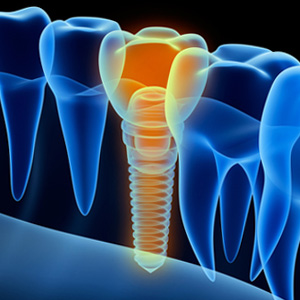 The dental implant is the closest thing in modern dentistry to a natural tooth. This is because an implant replaces more than the visible crown — it also replaces the root, thanks to a metal post imbedded in the bone.
But what if you have a metal allergy — are you out of luck replacing a tooth with an implant? Before answering this question, let's take a closer look at metal allergies.
An allergy is an overreaction of the body's immune system to a particular foreign substance. This response can be as inconsequential as a minor rash or as life-threatening as a shutdown of the body's organ systems. You can be allergic to anything, including metals.
Usually, these allergies are to specific kinds of metals. For example, about 17% of women and 3% of men are allergic to nickel, while smaller percentages are allergic to cobalt or chromium. Most allergic reactions to metal occur from external contact with jewelry or similar metal items that create rashes or other anomalies on the skin. On a more serious note, an allergy to metal in a body replacement part could result in the body rejecting it.
Metals have also played an important role in dental care, particularly dental amalgam used for tooth fillings. Dental amalgam is a mixture of a precious metal like gold or silver with other metals like copper, tin and, in small amounts, mercury. While dental amalgam has been used safely for decades, there have been rare cases of inflammation or rashes.
This brings us to dental implants and the most common metal used in them, titanium. The commercial version of this metal is highly prized in medical and dental applications because it has a special affinity with bone. Bone cells readily grow and adhere to the metal, which strengthens the bond between the implant and the jawbone.
Even if you have a rare allergy to certain metals, it's even rarer that would include titanium. In one particular study of 1,500 implant patients less than 1% reported any reaction at all.
If you're concerned, you can undergo testing to see if you react to titanium. More than likely, though, you'll be able to join the millions of other patients who have successfully restored their smiles with dental implants.
If you would like more information on dental implants as a tooth replacement option, please contact us or schedule an appointment for a consultation. You can also learn more about this topic by reading the Dear Doctor magazine article "Metal Allergies to Dental implants."