My Blog
Posts for: October, 2014
By Kirkland Smiles Dental Care
October 27, 2014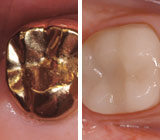 A "crown" or a "cap" is the term used to restore a decayed or broken tooth that needs to be completely encased to protect the tooth beneath it. A crown's dual purpose is to restore the tooth's form and function. Decades ago gold was the material of choice for a crown. What we ultimately choose depends on a particular crown's requirements with regard to the tooth's appearance and function, and to some extent what you want.
Gold: Gold crowns last the longest and wear the best (at about the same rate as natural teeth), but they are not used as frequently today, especially if they are visible in a person's smile. Gold crowns are made of cast gold, a technique that has been in use for over a hundred years. They can last for decades, and have been known to last 50 years or more. They tend to cost less per tooth than porcelain or other materials.
All-Porcelain: "All porcelain" crowns have a natural appearance and as technology improves they are gaining popularity. Dental porcelains are composed of ceramic substances that are variations of glass. This gives them their translucent, lifelike appearance — but it makes them brittle and subject to fracture. Therefore all-porcelain crowns may not be a good choice for back teeth because they frequently fail under the biting forces applied during chewing and especially adverse habits like tooth clenching or grinding. Porcelain crowns are made of material that doesn't wear. Consequently, it can cause excessive wear to the teeth they bite against.
Porcelain-Fused-to-Metal (PFM): PFM crowns have been in use for more than 40 years. They combine a substructure of gold or platinum for strength and have porcelain "facings" for the visible surfaces. In some ways they combine the best of both worlds, but they do have some problems; the metal can show through the porcelain, detracting from its life-like appearance. These crowns can have a functional lifespan of about 20 years or more.
New and Future Materials: Newer "pressed-ceramic" restorations and computer-milled ceramics have received good reviews for aesthetics and service. These new materials are being intensively researched. Initial results look good, but we'll have to see how they last over time.
Contact us today to schedule an appointment or to discuss your questions about crowns and other dental restorations. You can also learn more by reading the Dear Doctor magazine article "Gold or Porcelain Crowns?"
By Kirkland Smiles Dental Care
October 09, 2014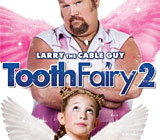 Did you know that severe tooth decay is America's #1 chronic childhood disease? Actress Brady Reiter didn't know either — until she became the star of the movie Tooth Fairy 2, and then joined forces with the National Children's Oral Health Foundation: America's ToothFairy®.
"Before, I didn't even realize what can happen to kids if they don't take care of their teeth," 11-year-old Brady recently told Dear Doctor magazine, after viewing photos of children suffering from severe tooth decay. "There are kids in America who don't know that it's important, or they just don't have the resources to be able to take care of their teeth or to go to the dentist."
This young Tooth Fairy knows just how magical — and vital to a child's self-esteem — a beautiful smile can be.
"When you feel bad about opening up your mouth and smiling, a kid's confidence just goes down the drain," she said.
NCOHF recently tapped 11-year-old Brady to head the America's ToothFairy Kids Club, which offers kids personalized letters from the Tooth Fairy along with lots of encouraging oral health tips and fun activities — free!
"I'm really excited to be part of it," Brady told Dear Doctor. "Kids learn how to take care of their of smile by joining this club. By supporting America's ToothFairy, we can help kids in need get dental care and have a healthy smile too. It's really amazing!"
While lots of kids get an occasional cavity, millions of children have tooth decay so severe that it interferes with their ability to eat, sleep, and concentrate in school. The good news is that tooth decay, a bacteria-induced infection, is preventable.
"When kids join the club, they learn how to prevent tooth decay. When families support this great cause, we can help kids in need. And that's what feels great — that we really can make kids' futures better."
If you would like to enroll your child in the club — it's free! — please visit www.AmericasToothFairyKids.org. And to make sure your child's teeth and your own are decay-free and as healthy as possible, please contact us today to schedule your next appointment.