My Blog
Posts for tag: root canal
By Kirkland Smiles Dental Care
May 14, 2018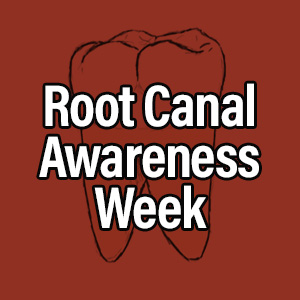 What's the first thing that comes to mind when you think of the month of May? Balmy breezes? Sweet-smelling flowers? How about root canal treatment?
The last item might seem out of place…but for the last ten years, Root Canal Awareness week has been celebrated in May. So let's take a closer look at this important—and often misunderstood—dental procedure.
What we commonly call a "root canal" is a special treatment that can save diseased teeth which might otherwise be lost. But the root canal itself is actually a set of hollow, branching passages deep inside the hard outer tissue of the tooth. The tiny "canals" contain the tooth's soft pulp, including nerves, blood vessels and connective tissue. These tissues help teeth grow during childhood but aren't necessary in healthy adult teeth—and, what's worse, they can become infected via deep cavity or a crack in the tooth's outer layers.
When bacteria infect the pulp tissue, the inflammation often causes intense discomfort. In time, the harmful microorganisms can also pass through the tooth's root and into the tissue of the jaw, resulting in a painful abscess. Eventually, if it isn't treated, the tooth will likely be lost.
Root canal treatment is designed to remove the infection, relieve the pain…and save the tooth. It is usually performed under anesthesia for your comfort. To begin the procedure, a small hole is made in the tooth's enamel to give access to the pulp; then, tiny instruments are used to remove the diseased tissue and disinfect the tooth. Finally, it is sealed up against re-infection. Following treatment, a cap (or crown) is often needed to restore the tooth's full function and appearance.
Despite some rumors you may have heard, root canal treatment is neither very painful nor likely to cause other health problems. So if you come across these discredited ideas, remember that dentists and dental specialists called endodontists perform some 25 million root canal procedures every year—and this treatment method  has been validated for decades.
Of course, like any medical procedure, root canal treatment is not 100% successful. While the procedure has a very high success rate, it's possible that additional treatments will be needed in some cases. However, the alternative—extracting the tooth—has similar potential downsides; plus a replacement tooth will be needed to avoid the health and lifestyle troubles caused by missing teeth. But one thing is certain: Ignoring disease in the tooth's soft tissues isn't a good move, because the infection won't go away on its own—and down the road it will only get worse.
So this May, while you're taking time to smell the flowers, spare a thought for the often-misunderstood root canal. If you'd like more information on root canal treatment, please contact us or schedule a consultation. You can also learn more by reading the Dear Doctor magazine articles "A Step-By-Step Guide to Root Canal Treatment" and "Root Canal Treatment: What You Need to Know."
By Kirkland Smiles Dental Care
February 12, 2015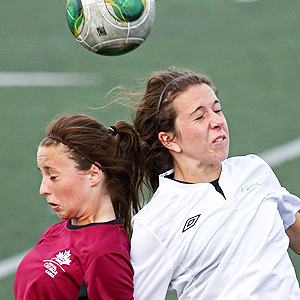 If you regularly participate in sports or other physical activity, you're at a higher risk for dental injuries. While chipped teeth are the most common result of these injuries, a few may result in more serious trauma — dislodged, cracked or knocked out teeth. In these cases, the core of the tooth — the pulp — and the root may have been damaged. Saving the tooth may require endodontic treatment and possibly the expertise of a specialist in the field, an endodontist.
Endodontics, from the Greek words for "within" and "tooth," is a specialty of dentistry that treats disease or damage affecting the inner parts of a tooth, particularly the pulp chamber, the root canals, and the root. While all dentists are trained in endodontic procedures, an endodontist has advanced training, experience and specialized equipment to address complex cases.
The type of endodontic treatment needed for an injured tooth will depend on the extent of damage. A mature, permanent tooth with pulp damage, for example, may require a root canal treatment. In this procedure the pulp chamber and root canals are thoroughly cleaned out, and then are filled with a special filling to prevent any future infection. Later the tooth should be crowned to permanently seal it. Although a general dentist may perform a root canal, more complex cases, such as a tooth with an extensive root canal network, may need to be performed by an endodontist using microscopic equipment.
A tooth that has undergone severe trauma, especially a knocked out tooth, will need extensive follow-up care by a general dentist and possibly an endodontist to improve its chances of long-term survival. Because of the severity, the tooth may lose viability and the body ultimately may begin to reject it. For this reason, the tooth should be monitored on a regular basis and may need further treatment from time to time, even up to five years after the injury.
One final word: if you participate in sports or exercise activity, you can significantly reduce your risk of dental injury with a mouthguard. There are various types, but the best protection is one custom designed to fit the specific contours of your mouth. We'll be glad to advise you further on how to protect your teeth from injury.
If you would like more information on dental injury prevention and treatment, please contact us or schedule an appointment for a consultation. You can also learn more about this topic by reading the Dear Doctor magazine article "Trauma & Nerve Damage to Teeth."
By Kirkland Smiles Dental Care
March 18, 2014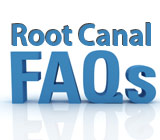 If you think you'd rather wrestle a pack of porcupines than go to the dentist for a root canal treatment — then maybe it's time to think again! This common procedure has been the butt of jokes for a long time. Let's set the record straight by answering some common questions about the much-maligned procedure.
Q: What is a root canal?
A: Coursing through the central part of each root is a hollow space or canal, which contains the pulp tissue. The pulp tissue contains the nerves which respond to temperature changes transmitted through the tooth. When the temperatures are extreme the nerves signal sensitivity and pain. It's also shorthand for the dental procedure that is performed when the pulp tissue that fills these canals develops a disease.
Q: Why do I need to get a root canal?
A: Because an infection or inflammation has developed deep inside one or more of your teeth. When the living pulp tissue — which contains nerves and blood vessels — becomes inflamed or infected, it can cause intense pain. It also releases bacterial toxins, which can lead to further problems.
Q: What happens if I don't get a root canal?
A: Your acute pain may temporarily go away, but the infection won't. It will eventually travel through the tooth's roots into the surrounding tissues. If left untreated, it may result in an abscess or even a systemic infection. That's why you need to take care of it now.
Q: Will it be painful?
A: Generally, a root canal procedure is no more painful than getting a filling. In fact, it starts the same way: An anesthetic is given to numb the tooth and the surrounding area. Then a small hole is made through the tooth's chewing surface and down into the canal. Diseased pulp tissue is removed through the hole via a set of tiny instruments. Finally, the root canal is cleaned, disinfected, filled with inert biocompatible material and sealed up.
Q: What happens after that?
A: Your tooth may be sensitive for a few days after the treatment, but the acute pain will be gone. Over-the-counter pain relievers generally work well for pain relief at this point. To restore your tooth to its fully-functioning state, a crown or other restoration is usually needed after root canal treatment. Properly done, the restored tooth can last as long as any of your natural teeth.
Q: Is there an alternative?
A: Yes. You can relieve the pain by having the tooth removed. But you don't want to go there. Tooth loss can lead to unwanted side effects, like migration of teeth, bone loss and eventually the inability to chew properly. It's far better to save your natural teeth when you can.
If you would like more information about root canals, please contact us to schedule an appointment for a consultation. You can also learn more about this topic by reading the Dear Doctor magazine articles "Common Concerns About Root Canal Treatment" and "Signs and Symptoms of a Future Root Canal."