My Blog
Posts for tag: oral cancer
By Kirkland Smiles Dental Care
July 31, 2015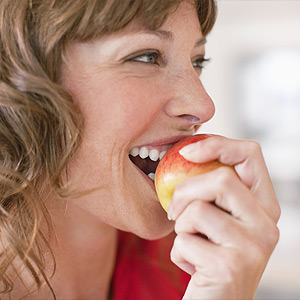 Good nutrition is vital for maintaining health and preventing disease, especially for your mouth. A diet rich in whole foods — fresh fruits and vegetables, protein and dairy products — and low in sugar will not only promote strong teeth and gums, but lessen your chances of developing tooth decay or periodontal (gum) disease.
Diet is also a prominent factor in reducing the risk for another serious mouth disease — oral cancer. While oral cancer makes up only 3% of total cancer cases reported annually, the five-year survival rate is a sobering 50%, much lower than for other types of common cancers. While genetics plays a role in your susceptibility to oral cancer, lifestyle choices and practices present the greater risk factors for the disease.
Of these lifestyle factors, refraining from tobacco products, moderating your alcohol consumption and avoiding risky sexual behavior are of primary importance in reducing your cancer risk. With that said, you should also take into account the foods that are part of your daily diet — both what you should and shouldn't eat. As an example of the latter, some foods contain a class of chemicals known as nitrosamines that are carcinogenic (cancer-causing). One such chemical, nitrite, is used as a preservative in meats like bacon or ham, and may also be found in beer, and seafood products.
On the positive side, your diet should be rich in foods that supply antioxidants, substances that protect the body's cells from damaging, unstable molecules known as free radicals. The best sources for antioxidants (more so than dietary supplements) are plant foods rich in fiber and vitamins C and E. Eating more of these may also reduce your intake of nitrates, animal fat and saturated fat.
Adopting a moderate, nutritious diet, along with exercise, can have a huge positive impact on your general health and quality of life. Along with other lifestyle changes, better dietary choices can also help ensure a healthy mouth and reduce your risk of oral cancer.
If you would like more information on the role of nutrition in reducing your risk of oral cancer, please contact us or schedule an appointment for a consultation. You can also learn more about this topic by reading the Dear Doctor magazine article "Diet and Prevention of Oral Cancer."
By Kirkland Smiles Dental Care
May 09, 2015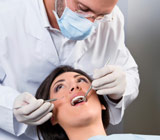 The weapons in the war against cancer are stronger and more effective than ever. But as in real war, those weapons can inflict harm on innocent bystanders — in the case of cancer treatment, other cells in your body. Your mouth in particular may develop side effects from these treatments.
The basic purpose of common cancer treatments like chemotherapy and radiation is to destroy and inhibit future growth of cancer cells. They're very effective to that end, but they can also destroy healthy cells caught in the "crossfire" with malignant cells or have an adverse effect on the body's immune system and its response to infection. Chemotherapy in particular negatively affects blood cells developing within bone marrow, which leads to lower resistance to infection.
These can have secondary effects on the mouth. Patients undergoing cancer treatment can develop painful ulcers and sores within the mouth cavity, and reduced immunity makes them more susceptible to tooth decay or gum disease (especially if risk factors were present before cancer treatment). Certain treatments may also cause dry mouth in some patients.
If you are being treated for cancer, or about to begin treatment, we can help mitigate these effects on your oral health. The first step is to perform a complete dental examination to identify any issues that may affect or be affected by the cancer treatment. We would then treat those conditions (if possible before cancer treatment begins).
We would also monitor your oral health during the treatment period and treat any complications that arise. Such treatments might include applications of high-potency fluoride to strengthen teeth against decay, anti-bacterial rinses to reduce the risk of bacterial growth, and medications to stimulate saliva if you should encounter dry mouth.
Fighting cancer will be your main priority. You should, however, remain aware of how cancer treatment may affect other aspects of your health. As your dentist, we will partner with you in seeing that your teeth and gums remain as healthy as possible during this process.
If you would like more information on caring for oral health during cancer treatment, please contact us or schedule an appointment for a consultation. You can also learn more about this topic by reading the Dear Doctor magazine article "Oral Health During Cancer Treatment."